Working with our community on Cardiff's creative sector narrative past, present and future - Creative Cardiff Director Sara Pepper explains our new opportunity, Our creative Cardiff.
Creative Cardiff was set up four and a half years ago as a city-wide network to help grow and connect creative workers and organisations, with a bigger picture vision to enable Cardiff to be the most creative place it could be.
From its launch, the network grew at speed and exceeded expectations in membership numbers and levels of engagement. The year on year growth of the network is testament to the importance of connecting and enabling the creative community in the capital.
Led by the Creative Economy team at Cardiff University, with support from founder partners BBC Cymru Wales, Cardiff City Council and Wales Millennium Centre, co-creation is in our DNA. Our approach, introduced in our co-produced 52 Things campaign in year one, has meant that Creative Cardiff always aspires to be something made with, by and for the creative community in the city.
Now in 2020, Creative Cardiff has members throughout the city region (3484 in total) who span many creative sectors – from architecture to animation, pottery to post-production. Our focus has sharpened over four years but key activities remain largely the same: including spotlighting job opportunities, collecting, assessing and sharing data, helping to make connections between creatives, encouraging collaborations through a series of events and supporting innovation, growth and development in the creative sector.
One key area of focus for Creative Cardiff has always been telling Cardiff's creative story: the people, the places, the partnerships. Despite the fact that Cardiff is no stranger to hosting major events (both cultural and sport related) and promoting itself on the world stage, there is still much to be done to develop a greater understanding of what creative activity and assets it has and the potential that exists within this community - not only to support economic growth, but education, health and wellbeing, placemaking, and an overarching sense of identity and pride.
Much has been published by UK-based organisations to influence cultural policy and economic planning activity in relation to the cultural and creative industries. In Wales policymakers at every level recognise the strength and potential of the sector - both as a cultural cornerstone of Welsh life and identity and a driver of economic growth.
Cardiff Council hosted the Creative Cities Convention in 2019 and has partnered with both Creative Cardiff and screen innovation programme Clwstwr in recent years; the City Region has made it one of six major target sectors of the City Deal[1]; and Welsh Government has identified as one of its three priority sectors for international growth, launching Creative Wales[2] in 2020.
In addition, Cardiff has received its fair share of column inches and social media space reporting key successes and challenges in the past five years particularly reporting the growth of the TV and film sector in Wales, the new BBC Wales HQ in Central Square, the Roald Dahl 100 celebrations, the Save Womanby Street campaign and the demolition of Gwdihw to name a few.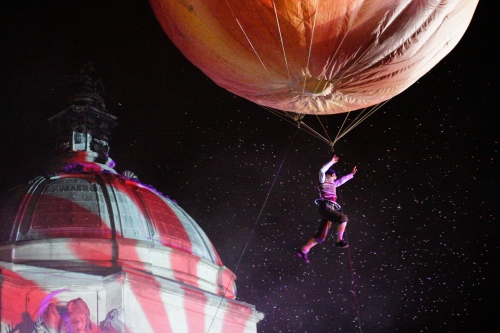 This reporting is important in celebrating success, drawing attention to challenges and promoting opportunities such as sector development and growth as well as attracting new talent and businesses to the city to enable the economic, cultural and social contribution of the sector.
However, to ensure that the detail of the sector is understood and shared as widely as possible, there is significant work to be done on placemaking - sharing the stories of our creative community in this part of the world. This work has the potential to bring together the creative community to collectively reimagine, reinvent and share the people, places and partnerships at the heart of this community.
Done well, placemaking work of this kind can impact in a number of significant ways playing a role in the wider regeneration and revitalisation of neighbourhoods and communities, building confidence within and identity and reputation outside. This is going to be vitally important as we move through COVID-19 and its increasing impacts.
Some excellent examples of this kind of placemaking activity include Sheffield's Our Fav Places, Bristol's Playable City, Dundee's Amp's Network, Belfasts's Titanic Quarter redevelopment and further afield Renew Newcastle in Newcastle, Australia, and Pā Rongorongo in Aukland, New Zealand.
These demonstrate what can be done in wider partnerships, providing a guide for locals and visitors to understand and engage with places through the stories of their creative practitioners and organisations that are so key to their very fabric and future.
At Creative Cardiff we have always been sure that the way to do this is by working collaboratively and playing to our collective strengths as a city. What drives me forward every day is hearing the stories of individual creative sector workers and organisations who are making, doing, creating with, by and for people both here in Wales and internationally.
But how does a city tell stories about itself? What and how does this narrative of place develop? What do we want people to think about when we tell them we're from Cardiff? What stories should we be sharing about the city?
We are committed to shining a light on the breadth of creative practice taking place throughout Cardiff, celebrating those making work which resonates locally and globally. We want to work with others to provide a way to tell our stories, enabling all voices to be heard because we know that to truly capture the narrative we have to put it in the hands of creatives to each show us their creative Cardiff.
To achieve this, we launched Our creative Cardiff.
For a selection of creative practitioners working in the city from across different creative sectors to produce a piece of work each that explains, highlights and expresses 'our creative Cardiff' in 2020 in their own voice. We would like this work to draw attention to what is already happening and is known about in our creative city, what is invisible and/or unknown and what could happen in the future.
In my five years as Director of Creative Cardiff, I have been lucky to experience first hand the creative might of Cardiff and I cannot wait to share what I know will be a unique, inquiring, vibrant and dynamic tapestry of work with the city, and the world.
[1] See https://www.cardiffcapitalregion.wales/news-post/cardiff-capital-region-industrial-and-economic-growth-plan-is-showcased-at-largest-property-exhibition-in-the-world/
[2] Creative Wales published in 2020 key numbers on the creative industries in Wales (see https://www.wales.com/creative-wales). The numbers presented by Creative Wales differentiate from the here presented numbers as different data sources and a different harmonisation process have been applied. Creative Wales states that "The creative industries represent one of Wales' fastest-growing sectors, with an annual turnover of more than £2.2 billion, and employing over 56,000 people – 40% more than 10 years ago."