From West African Traditions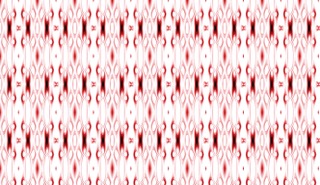 Adeola's Jumbies.
From West African traditions, Jumbies are supernaturally tall beings who intermediate between heaven and earth, often to bring warnings: and  Adeola chose red and white as symbolic of life and death. Adeola had previously liked one of my earlier patterns (the original picture is of a rock in a pond at Forest Farm, Cardiff), which resembled spirit-like figures dancing. I adjusted the colours to suit and after a little more manipulation something like a pair howling banshees appeared.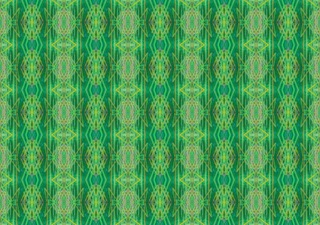 Bean Friend - with Alice Fogaty. 
Alice initially spoke of escapism and giant monsters but it turned out that these were of the imaginary friendly - sometimes mischievous - variety. I didn't know the name 'Bean Friend' at the time but pictures of masks Alice was making reminded me of locust type insects. The original picture for this pattern (also taken at Forest Farm) is of a tiny grasshopper on a bent reed - or maybe not.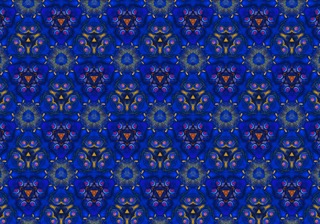 Blue Devils - with Cath McShane-Kouyate. 
Blue Devils are a tradition in Trinidadian Carnival and Cath had previously played in this Blue Devils with her family while visiting Trinidad and in other carnivals in Cardiff. Mainly featuring lots of blue painted flesh, there's little scope or need for design ideas but I'd recently made a dystopian self-portrait for the WMC Voices of Change exhibition, in which I happen to be blue. I went on to create this pattern whilst trying out a new software app and when I shared with the other artists Cath requested it for the Blue Devils section.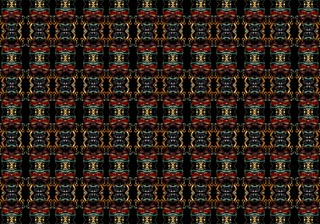 King Imp - with Mary Ann Roberts. 
King Imp is another traditional character from Carnival in the Caribbean. He precedes the opening of the gates of hell. Mary Anne has been playing this character for several years and actually had much of her costume in storage. She shared a video of the unboxing of the King's head - which looked markedly similar to a digital face mask image that I'd previously created while experimenting with patterns. I simply used my mask image to make another pattern from those patterns. The original picture is of frosted dewdrops on grass in Cwm George, near Dinas Powys.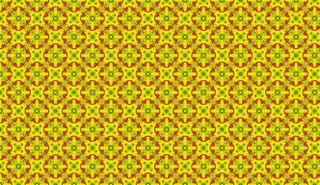 Winds of Change.
Caroline's Winds of Change is partly inspired by a Siberian shamanistic-inspired performance on YouTube, which she shared with the group. From that video and Caroline's story I'd imagined something quite earthy and even somber coloured - but when Caroline brought part of her costume to a recent impromptu photo-shoot I saw that it was actually brightly coloured. Just this weekend I managed to get to Hensol Woods and was lucky enough to see a Painted Lady.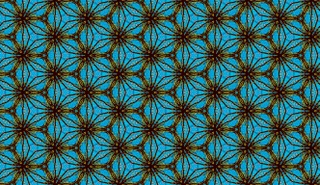 Yema-Suku.
Yema-Suku is a composite of 2 Afro-Caribbean entities: Yemaya is a sea/river 'divinity' originating in West Africa, who may be beneficent or destructive: and Suku comes from a Creole term for succubus or female vampire. Flow shared some early sketches of a fierce and foreboding face with unkempt hair and clothes and mentioned dark blue and green colours: in a later conversation Flow spoke having something to do with 'a tree'. On my trip to Hensol Woods I took photos of several fierce, foreboding and unkempt looking trees and for this pattern I adjusted the colours to include Yemaya's presence.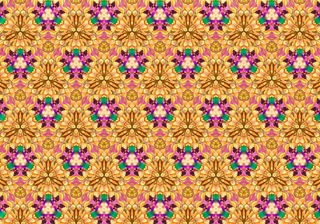 June's Bees.
June's Bees is dance-based piece and although we often share lots of ideas across various artforms, the visual cues around this idea have been a bit more vague and at the same time less abstract. As a result, this design is the most literal of the set, being simply a picture of a bee. The original picture was taken at Bute Park during the recent Black Lives Matter rally.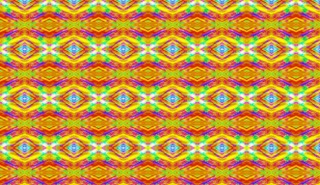 Niki's Billy Ma.
Niki's Billy Ma is a giant figure watching over the community while in lockdown. Niki's idea is inspired by a children's book and is something of a relief in that she is unequivocally benevolent and caring - and rainbow coloured. The original picture is of fallen leaves in a puddle at, also at Cwm George. I used 'deliberate motion blur' to achieve streaks and then adjusted various settings to make it rainbow coloured. 
I started in photography quite recently (and relatively late), with quite modest / dated equipment available. Although digital, I use manual controls rather than automatic and sometimes take a number of shots before I get it right ... I've now taken thousands of pictures and most of those weren't right - although my success rate has improved. 
My distance eyesight is also not great, so I tend to notice forms and tones rather than details: and I generally prefer the randomness of nature rather than static structures. 
I developed my interest in pattern-making as a result of trying to correct some 'unusable' photos that I'd taken. Occasionally, my attempts at editing would distort the images into something like an abstract painting.  
I was particularly drawn to images with strong outlines and angles and by mirroring and digitally stitching copies of the image I created shapes that were organically random and geometrically symmetrical. These shapes are repeated to make a pattern and by further experimentation I've produced a number of colour variations for each. 
The process for this project has involved ongoing conversations with 8 local Carnival artists, working from home on their own costume and character ideas: each artist has also written a short story introducing their respective character(s) and from these conversations and stories I was given clues and ideas for the patterns. 
As well as new pictures taken for this project, some were taken previously and a couple of the artists chose existing pattern ideas which I then worked on further. 
Audio description:
Find out more about Keith Murrell and the other Our Creative Cardiff 2020 creatives here.