For creative workers and those interested in the creative industries. Rhywbeth Creadigol? (Something Creative?) brings industry experts and workers together to discuss the topics that matter to them, with a focus on current creative industries research. Series 2 sees us taking the conversation online and looking at discussions relating to taking creative work and culture online.
According to a report carried out by Lloyds Bank 1 in 4 people in Wales couldn't use the internet before the COVID-19 restrictions. The report also stated that, out of 11 other regions in the UK, Wales was the least knowledgeable regarding digital skills. In this episode we talk to Huw Marshall and Angharad Evans about digital upskilling as many make the move from the office to homeworking, the practicality of working online in Welsh, digital poverty, community engagement and wellbeing.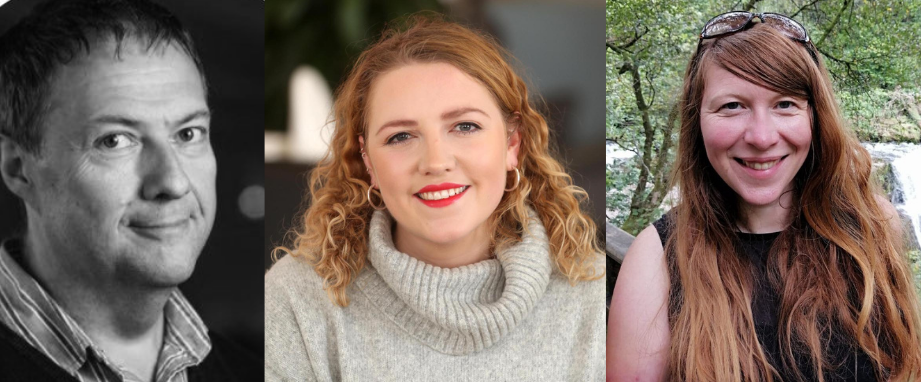 Huw Marshall has a depth of knowledge about the digital landscape in Wales after working as Head of Digital at S4C and years of experience working in the creative industries in Wales. He has been involved with and overseen projects with large established companies as well as start-ups and early stage start-ups. In 2012 he launched the 'yr awr gymraeg' (Welsh hour) Twitter account that reaches over a million accounts on Twitter. He's interested in working with bilingual/multilingual companies (including the Welsh language) or ones that are seeking to use the Welsh language as a gateway in to the international market.
Find out more about Huw Marshall's work as a digital mentor and follow yr awr gymraeg on Twitter (every Wednesday between 8 pm and 9pm)
Also chatting with us about her experiences of making the jump from office work to working from home is Angharad Evans, Producer with Artis Community. Artis Community engage and support local communities in Wales. Promoting partnerships is a key part of her role and she has a wealth of experience in working with community and using the arts to enrich people's lives. As a Welsh language speaker she is also interested in promoting the Welsh language.
Find out more about Angharad and Artis Community and the work they do.
Listen to the full episode here:
Training and engagement opportunities:
Research mentioned during the episode:
This podcast was created by city network Creative Cardiff with and for the creative community.
Listen to the rest of series two:
2:1. Are We Ready For Digital Culture?
2:2. How To Encourage Thoughtful Fashion?
Listen to the first series episodes here:
1:1. What's It Like Being An Influencer?
1:2. Is Creativity A Way Of Life?