In July, our Creative Spotlight is on creative community organisation, Jukebox Collective and the incredible work they do. We asked them some questions about the team, their creative mission and exciting projects they're currently working on. Here's what they had to say... 
Can you tell us what you do?
We are a Black-led collective of creatives based in Butetown, Cardiff. Through our unique community rooted approach, we use dance and creativity to empower, connect and transcend barriers. 
We aim to achieve self-determination for communities across Wales by celebrating the beauty of diversity and creating a space where our community can express their passions and achieve success. Alongside our multidisciplinary arts programme, we create theatre and manage a creative agency where we represent dance artists and make bespoke performance work.
In recognition of our high quality work and social impact, Jukebox Collective was the first Black-led organisation to receive funding by the Arts Council of Wales as one if it's National Arts Portfolio organisations. 
Why have you chosen to work in Cardiff?
Cardiff has always been home to us. This is where the company was founded over 15 years ago by Liara Barussi, starting out as local street dance classes and dance crews. 
It's important for us to continue our work locally as we play an integral part in shaping how Black and ethnic minority communities are represented within the Welsh cultural sector and we proudly celebrate contemporary Welsh culture in all its diversity.
Who's in the team and what do they do?
Liara Barussi - Artistic Director 
Lauren Patterson - Strategic Director
Ally Gibson - Executive Assistant
Darnell Williams - Admin Assistant & Tutor
We then have an extended core team of freelance tutors who deliver our community classes and academy programme. We are currently hiring for our Participate Manager and our Marketing Coordinator will be starting in August!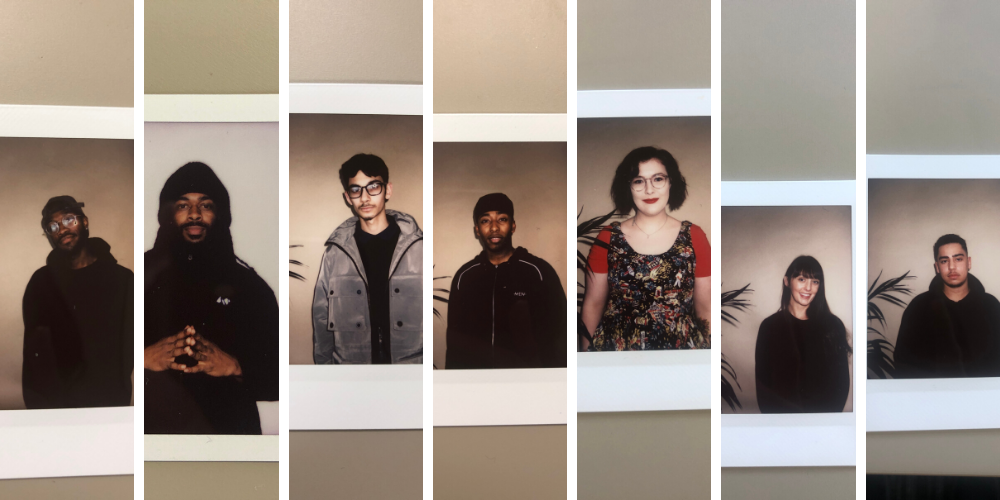 What would you change about the creative/arts industry in Wales?
Dismantle the barriers people face! Currently the arts scene is very fragmented with access to resources very inaccessible. We want to change this and make Cardiff's creative scene more inclusive.
In Wales as in many places, there is a lack of diversity in the arts and creative industries and within those who hold positions of 'power' and influence. Due to systemic racism these issues are embedded and will take the collective effort of us all to make the changes we hope to see. We would love for more diverse representations of Welsh talent to be at the forefront and our goal is to amplify those under-represented voices to build a stronger creative scene that is diverse and reflective of 21st century Wales. 
We also want to encourage more collaboration. We are focused on building community and promoting a culture of sharing resources. Connecting the dots between different creatives from dancers to filmmakers is crucial.
Supporting emerging talent also plays a part in making the change we hope to see. We currently mentor many young people in our Academy programme and support them on their individual journeys. We are in contact with many Black and NBPOC creatives to share with them funding and employment opportunities to make sure these are reaching everyone.  
What project are you most proud of?
1.    Stormzy x Adidas Originals Event
As part of our services we offer in our creative agency, we were brought on board as Consultants by Superimpose Global to deliver the talent casting and curation for the Stormzy x Adidas Originals launch event in London.  This project was all about connecting creative spirit with the community it comes from. Students from 800 schools across London, along with guests from community groups were invited to an impromptu theatrical performance which included a performance from Stormzy.
We sourced and briefed four local youth groups to create innovative reinterpretations of Stormzy's hit songs. Each act was unannounced, erupting out of the space through dynamic lighting and bespoke projection content. In a series of 10-minute performances, a Black-led orchestra, choir, dramatics group and dance collective put their craft to Stormzy's music, and Stormzy's music to their craft, interwoven by a spoken word performance which brought the 'Homegrown Spirit' concept to life.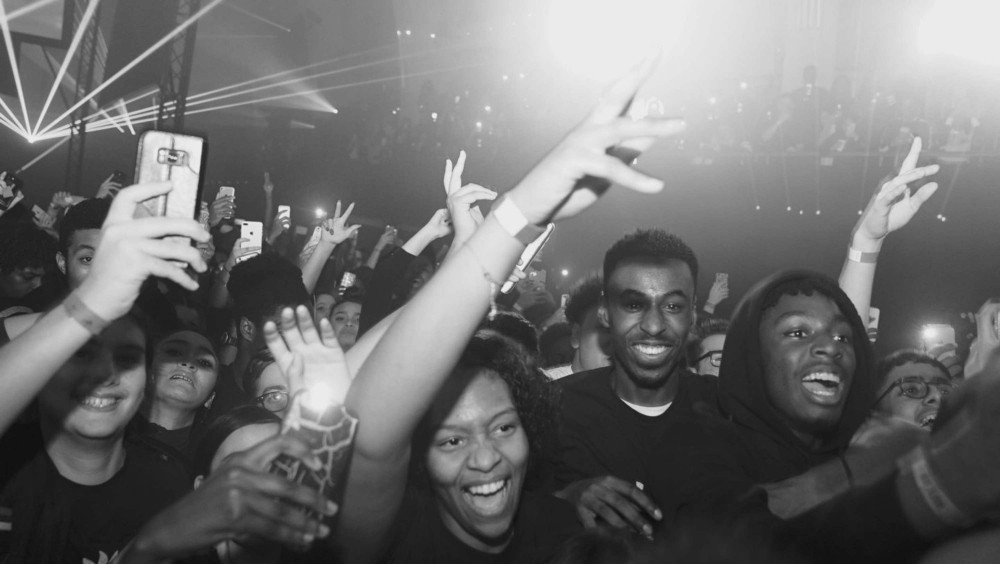 2.    Ghana - Scoping Trip 
In 2019 Liara and Lauren traveled to Ghana as part of a creative scoping trip funded by the British Council's Wales Arts Mobility Fund. The trip allowed us to understand the creative landscape in Ghana and connect with artists who are challenging and reclaiming their own narratives. 
Artistic Director Liara Barussi and Strategic Director Lauren Patterson in Ghana.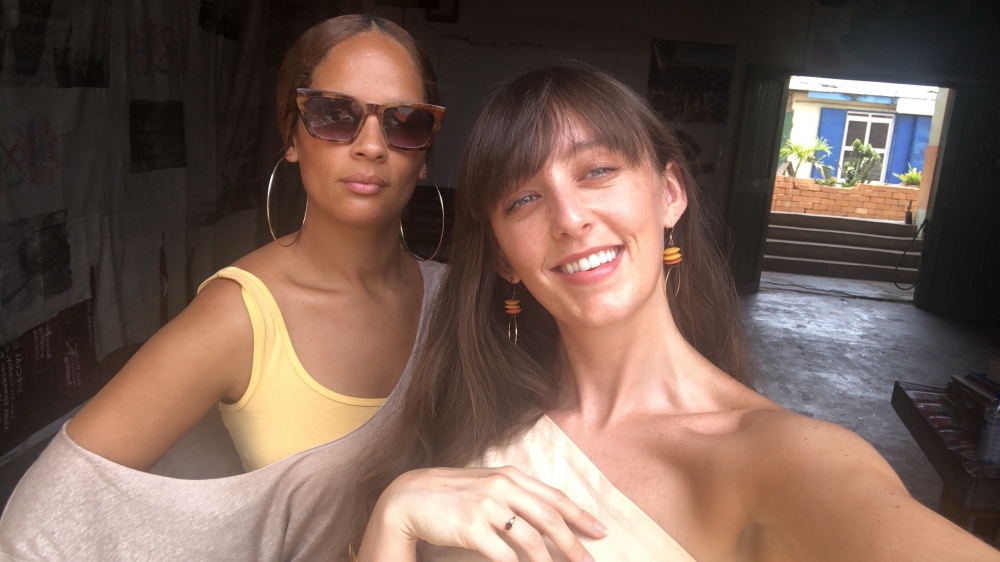 3.    Academy Annual Showcase
The 2019 Jukebox Academy annual showcase presented a series of creative work from our emerging young artists. Students worked with dance, music, theatre, set, costume and drama to produce a multi-disciplinary showcase that highlighted their individual talents.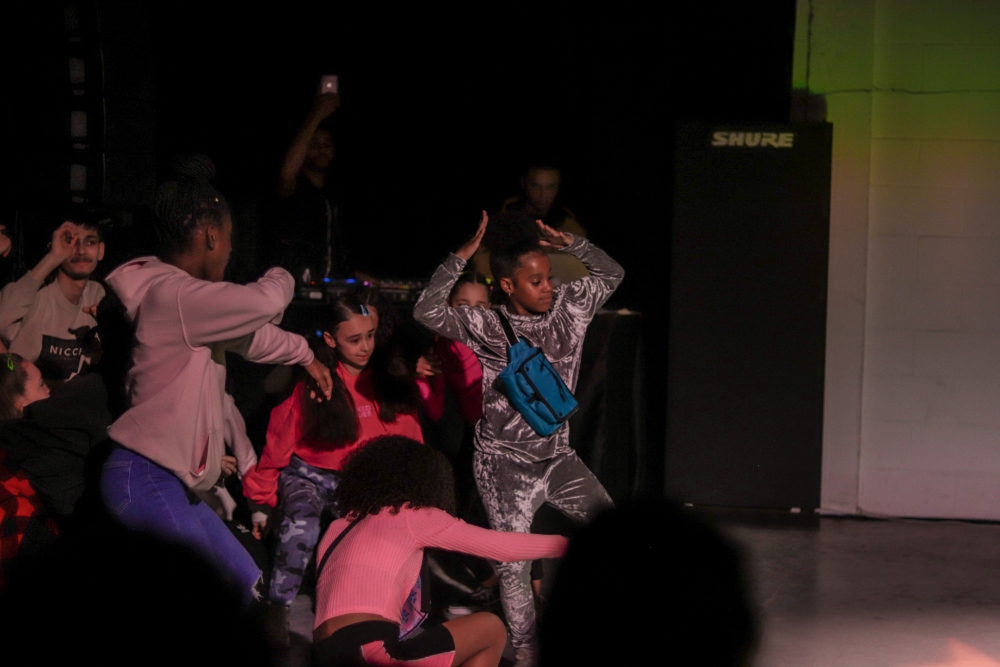 Mentored & directed by @liarabarussiChoreography by the students & @reuelelijah @katemorange @ramellewilliams @brookeplague @geeo_rose @dflexofficial Drama pieces written and directed by @tristanfaiduenu 
How has COVID-19 impacted your work? How are you all staying in touch at the moment?
COVID-19 has meant all our physical community dance classes have stopped as well as our Academy programme. Since lockdown, we've moved all of our classes online offering them to our community for free. One of our COVID-19 highlights was organising an online trip to Ghana for our Academy! Students got the chance to meet, talk and learn all about the most incredible dance, fashion and global online platforms built by some of the most influential young creatives in West Africa. We collaborated with the creator of "Agbelemi Dance" and founder of DWP Academy -  Dance God Lloyd who provided the students with an intro to Afro Dance and Joey Lit, Founder and Creative director of FREE THE YOUTH provided an insight into his fashion brand, creative process and community mission.
Our team base is usually at our offices in Butetown Community Centre but we have a culture of flexibility and remote working so we've been able to maintain a strong team dynamic with regular Zoom meetings and phone calls. A lot of projects have been put on hold and many things are still uncertain, but we are focusing on what we can do whilst preparing for the future. 
Tell us about three Cardiff dancers that we really should know about?
We also love the work of multi-disciplinary Cardiff based artist Tina Pasotra: @tinapasotra
We also think everyone should know about the incredible Black Welsh Talent we've been highlighting on our IG posts. We've highlighted emerging talent to the more established from curators to photographers. 
Some of our up and coming talent who are aspiring artists are: 
Jo-el Bertram - Dancer and Filmmaker
Truli Smith - Dancer and Designer
Shakira Ifill - Dancer and Actress
Renae Brito - Dancer and Make-up artist
Patrik Gabco - Dancer 
Gui Pinto- Dancer 
Any advice for someone trying to build a career as a creative / artist / dancer ?
- Build community and network, connect and collaborate with other creatives
- Be active, curious and open minded 
- Research and build your references 
- Don't be afraid of challenges and stepping out of your comfort zone 
- Seek opportunities to travel and expand your network
- Hold authority over your own narrative and representation
- Use social media and online resources as a border-free share space to connect with artists and organisations internationally and create value for your work
- Take risks and be a beacon of change! Start movements without waiting for validation
Pass the baton! What creative organisation do you admire?
Free The Youth Ghana: @freetheyouth_ghana (west africa) 
Where I'm Coming From: @whereimcomingfrom (local)
What's next for you, what projects are you working on
Right now, we are curating our next series of online classes to ensure we are really delivering what our community needs during these times. Later in the year, we have an exciting project with the National Museum lined up, which will bring together some of Cardiff's emerging artists. 
As lockdown eases, we are preparing to launch our multidisciplinary arts youth programme at Butetown Pavilion Hyb as well as building a youth arts network. Next month we'll also be doing our Academy talent search, where we'll be on the lookout for Wales's next generation of undiscovered talent. 
We have a busy year ahead!
You can check out our Instagram spotlight on Jukebox Collective on our highlights.