Students from Cardiff University, Cardiff Metropolitan University and University of South Wales tour creative coworking spaces in the city with Creative Cardiff
Budding student entrepreneurs have visited three coworking spaces in Cardiff to learn more about opportunities open to creative graduates in the capital.
The Hub Crawl took 30 students to visit Rabble Studio, The Sustainable Studio and Tramshed Tech where they learned more about entrepreneurship, starting your own business and working as a freelancer.
Enterprise teams from Cardiff University, Cardiff Metropolitan University and University of South Wales collaborated to bring students from a range of disciplines together for the tour. The event, hosted by Steve Aicheler, Entrepreneurship Engagement Manager at Cardiff Metropolitan University was in partnership with Creative Cardiff and supported by Welsh Government funding. 
The Hub Crawl kicked off at Rabble Studio – a coworking studio for desk-based creatives in Cardiff Bay. Founder of Rabble Studio, Dan Spain, shared his journey with the group. 
He said:
While there were other spaces in the city to work there was nothing that I found which was suitable for me as a freelancer and so I wanted to build a community of likeminded people who like doing good work and collaborating. We cheer each other on, challenge each other, offer suggestions and if you need it, hold you accountable."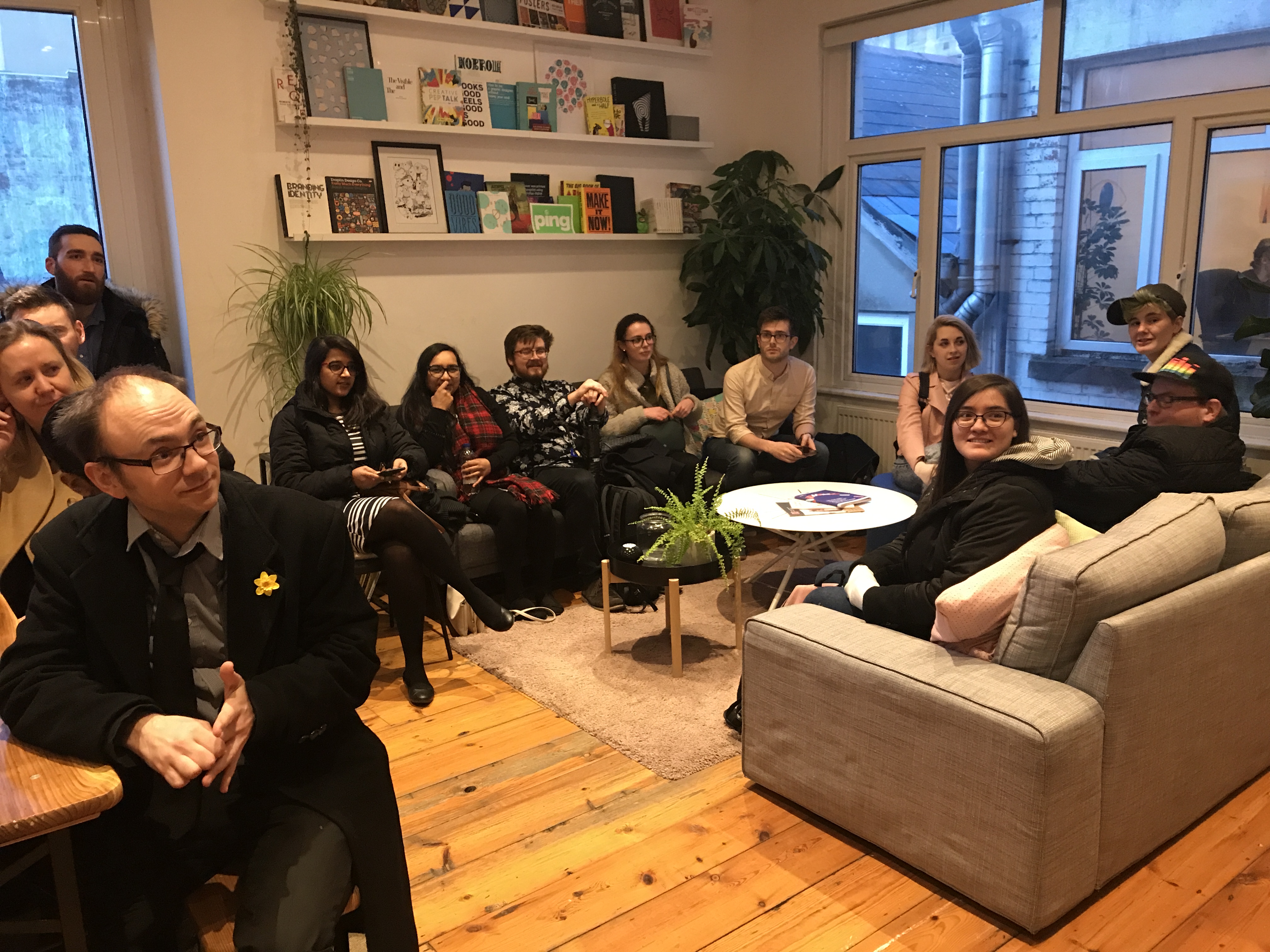 The second destination on the Hub Crawl was The Sustainable Studio - a space for makers, creatives and artists located in a former munition's factory off Dumballs Road.
Julia Harris and Sarah Valentin, founders of The Sustainable Studio, said:
This is a shared space based on relationships and trust. It is really what the community and the members bring to the space which creates an atmosphere, and members signing up to the values of wanting to support each other what actually makes it sustainable."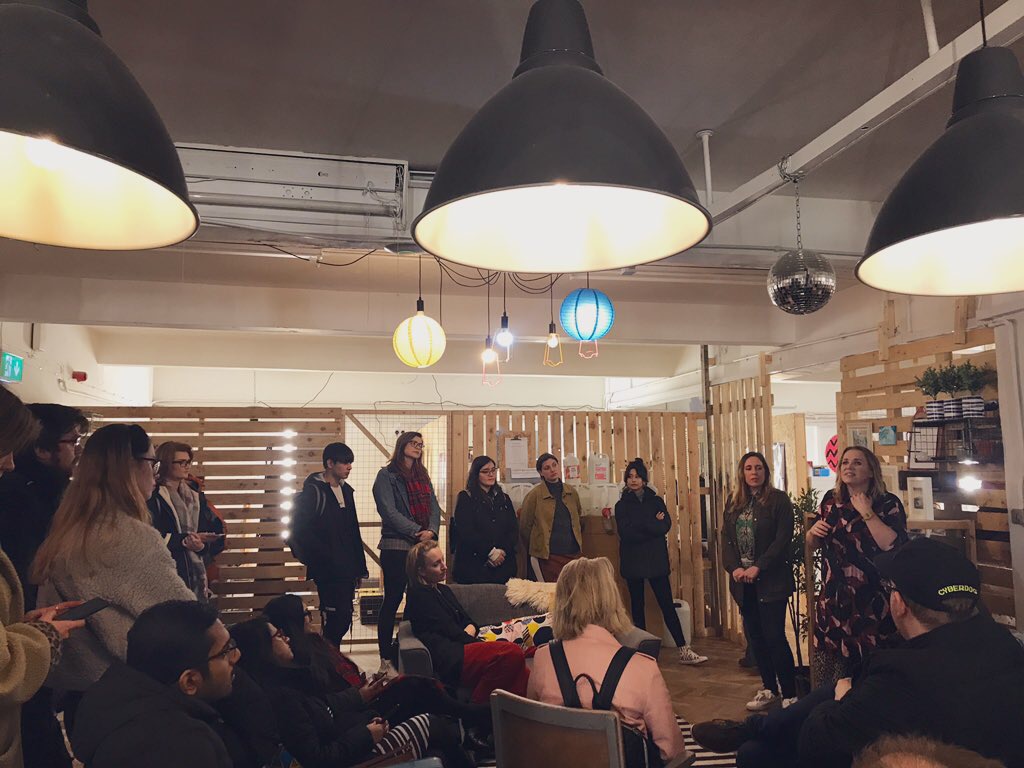 The final stop was Tramshed Tech where start-ups, scale-ups and large enterprises come together to work and innovate.
Tramshed Tech's marketing assistant Marcus Price welcomed the students. He said: 
It is great to see what a vibrant and developing coworking community that Cardiff has. We pride ourselves on creating a friendly and inclusive space for members and we're proud Cardiff is growing into a leader for tech companies throughout UK."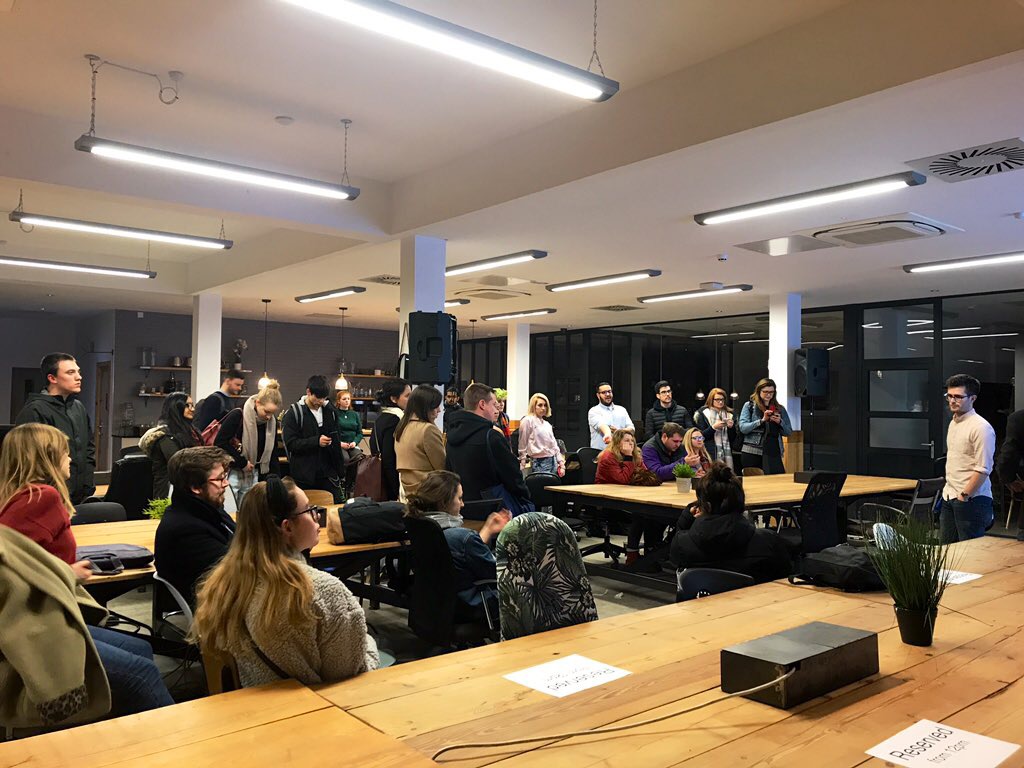 Cardiff University first year Biochemistry student Annabel Courts said it was a great experience. She said: "I love meeting people and getting involved in stuff in the city. Getting to see the different types of coworking spaces - all very similar in focus on community and interacting, using everyone's skills - but I love the fact they all had their own personality and focus. 
Meeting students who have their own ideas from other universities and discussing your own ideas with them has been nice, just to have the opportunity to talk."
For fifth year Cardiff University medical student Taj Chowdhury it was a welcoming and useful evening. She said: "I wanted to find some more opportunity and meet new people, to see something outside of my course and step out of my comfort zone. It really felt like there was a space for me and it has given me ideas for things to do next."
Donata Zowajak, final year Fashion Design student at Cardiff Metropolitan University, said: "Thank you for such a great opportunity to visit these all amazing spaces. It is essential information for creative and business minded people, that the places like that exist in Cardiff. What is the most important part of it, that there are many opportunities for co-operating with many specialists from different backgrounds, which will make developing our fashion label much easier."
Steve Aicheler, Entrepreneurship Engagement Manager at Cardiff Metropolitan University hosted the hub crawl. He said: "There have been many calls recently for Universities to do more to support entrepreneurship, and for greater collaboration. This initiative shows that these calls are already being answered. Cardiff is developing into a thriving start-up city and the integration of students and graduates into this community is essential to its vibrancy, growth and success."
The Hub Crawl was supported by creative city network, Creative Cardiff, who have been engaging with coworking spaces since 2016.
Vicki Sutton, Project Manager of Creative Cardiff, said:
It has always been a priority for Creative Cardiff to champion coworking spaces and creative hubs across the Cardiff City Region. We are committed to telling the story of coworking connecting hub managers, encouraging collaboration and supporting the spaces and their tenants to thrive.
"And so, we were delighted to build upon this work by repeating the Hub Crawl initiative, this time with a focus on creative students from across the three universities in Cardiff. It is important for this next generation of creatives to understand the varied and vibrant ecosystem we have there, and to see their place to flourish within it."