The spotlight's on illustrator Jack Skivens as he works on his latest project, telling the story of Grange Pavilion.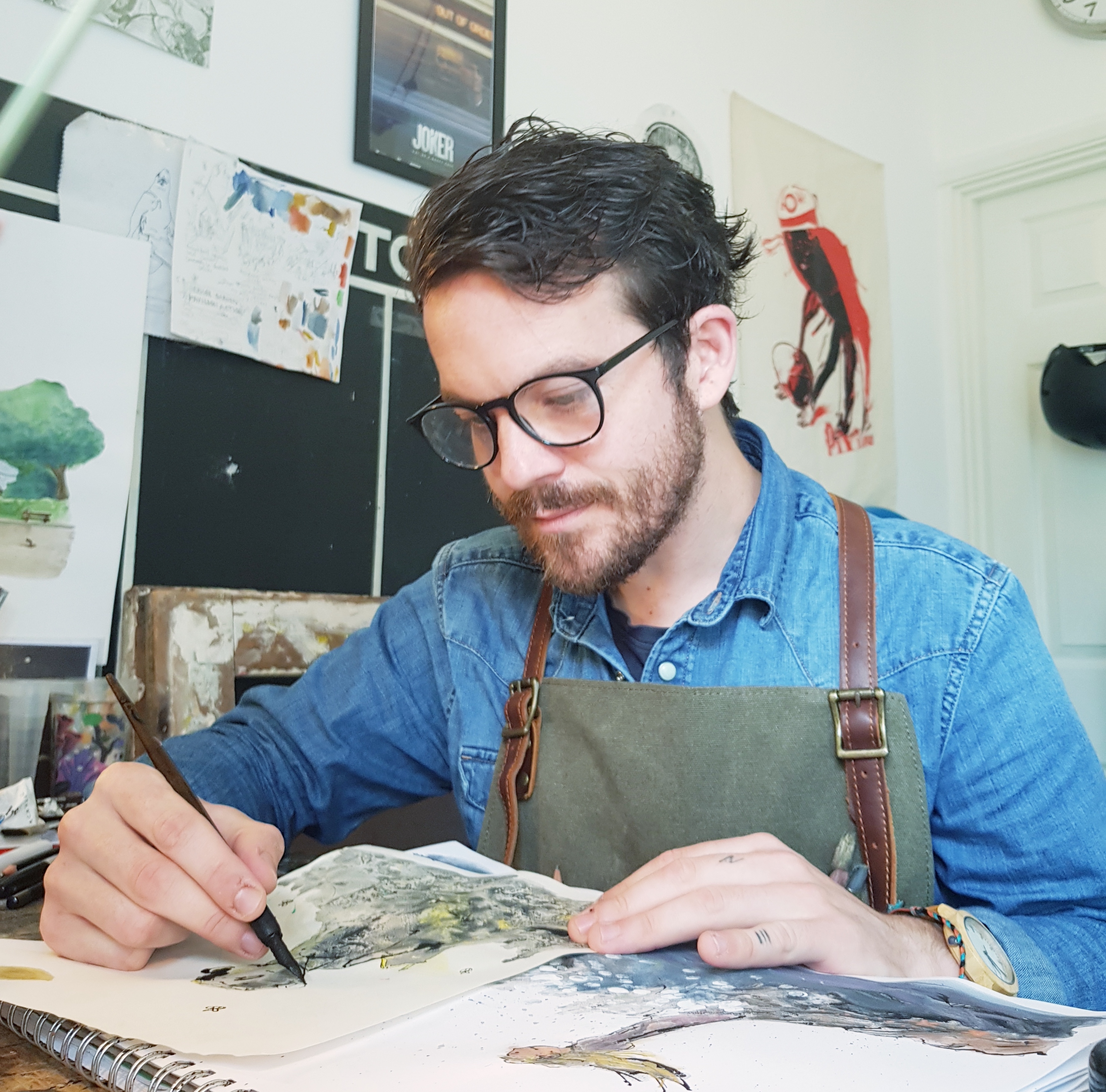 Creative Cardiff has partnered with Community Gateway for 2020 and despite lockdown have come together to tell the creative story of one of its most exciting projects, the redevelopment of Grange Pavilion. 
We commissioned Cardiff illustrator Jack Skivens to tell the story of Grange Pavilion's eight-year long journey from bowling green to community hub. He's been working his illustrator magic and the final piece will be launched at a digital opening of the Grange Pavilion in a few weeks.
We caught up with him to learn more about his creative processes, the impact of COVID-19 on his work and to get a sneak preview of the Grange Pavilion artwork.
What's your favourite thing about being an illustrator? 
I'll try to keep this short because there is so much I love about it and I could talk for hours. At its core, my favourite thing about illustrating is purely the act of doing so. The culmination of ideas and expectations, then the journey that happens when you are in the moment of creating. 
For me drawing and painting is like a meditation. I lose myself in what I'm creating. I enjoy the mistakes and the opportunities those mistakes can bring. That part of the process is completely for me. 
I often share my images once I've finished and love when they make a connection with people, especially when it's a connection that might not have been obvious when I was first creating the piece. 
What's your creative process? 
My creative process is an evolving thing that varies from project to project and is a reaction to the project I'm working on. It usually involves initial scribbles and sketches, that I then mentally explore on walks in the woods. 
Depending on the project, the drawings will usually start with throwing ink at a page and finding the subject of the project within the marks on the page. It usually either ends up looking like a 'Rorschach' or the other approach is to just do lots and lots of sketches in sketch books until I find it. Basically, there are no rules or a set out 'process'. 
For this project it was a great deal of sketching and research, but a visit to Grange gardens before lockdown and experiencing the space was where the ideas really started to flow.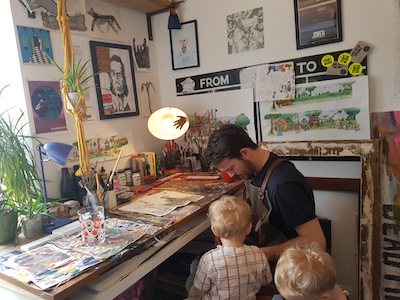 To elaborate on this question, I would like to mention R. Crumb who created a series of sketches that explore a space evolving over time. It's called 'the history of America' and this particular piece has always been interesting to me and has served as huge inspiration to the Grange gardens project. 
Where do you like to illustrate?
I have made a comfortable home studio where I like to illustrate, it's cosy with great views of the mountains and trees.
My twin boys Oliver and Jonah often join me to make some art of their own or to create some extra chaos as they dismantle the room around me. Although this is where I like to put ideas to paper, I find that a lot of the work is done when on walks in the woods near my home. That's where inspiration often hits. 
What do you need to get started?
First and most importantly, is good coffee and lots of it.
My main ingredients for illustrating are Black indian ink, a heavy paper, pencils although these are seldom used in my haste to get an image on paper. A selection of water colours and fresh water for these. I often use a white paint pen also for highlights. And good music…I often opt for music without vocals, Bonobo's Sweetness album is often played in my studio.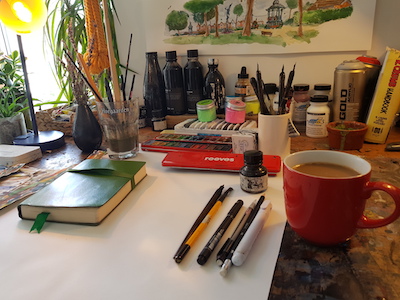 Are the twins impressed with your illustrations? 
The twins seem to be impressed with my illustrations, although I often feel they think they can improve on them in their attempts at trying to join in when I'm working on something. 
The most requested drawing is helicopters so, I get the feeling that in their opinion, helicopters would greatly improve almost any drawings. 
There aren't a great deal of things that they agree on but they do enjoy the image I made of Cardiff Museum's animals. They often sit together listing the animals they know and asking to learn about the ones they don't. Recently, learning the name of a new animal in the picture is followed by the question 'why?'. The majority of the next hour is taken up trying to explain why a crab is a crab.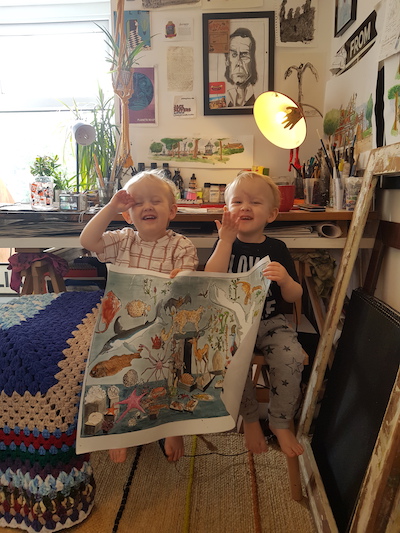 How has the lockdown and COVID-19 impacted your work?  
Lockdown has brought many challenges, but has also offered up a unique opportunity to spend more time in my home studio being creative.
I have been trying to make the best out of COVID-19 and have worked on a few pieces that imagine Cardiff without people. One where nature might thrive and creatures explore the streets and arcades. 
It has allowed me to take the time to explore ideas fully and focus on details that may have been missed in the past. Of course, it is a terrible and worrying time for many, but being a (sometimes miserable) optimist, I always to try to find the positives in every situation. 
What are some of your favourite pieces of work that you've done? Why? 
Gwdi-hw - This is an illustration I made during the time when the future of Gwdihw was being threatened by re-development. It was a place where I had made some beautiful friends and memories and it meant a lot to me. I made the piece to reflect the way I felt about the situation and it seemed to really connect with a great deal of people. 
I love the community that got together to try and save this space in a city where creatives are getting pushed out by big developers, and struggle to keep hold of creative spaces in our city. Unfortunately, the big dogs won and the space was unable to be saved, but the community is stronger than ever. 
Spillers records- This is a recent piece. The initial idea was to explore the impact that lockdown has had on nature, and the idea that animals may thrive in a city that was absent of human interaction. I posted the image online and received a response from people that was positive and uplifting, and many people claimed that it had offered an escape from reality and reminded them of happier times. 
WWF - This is an image I created for WWF Cymru. This is an organisation that does great and important work for all of us and I felt honored to represent them. I created two images that try and show a story that a grandfather had told his grandson of all the animals and nature he had seen in his younger life, in comparison to a future that is seen by the grandson. I like that these images can tell a story regardless of which order they are seen in. Also, personally I really love drawing birds, so this project appealed to me straight away. 
What's your creative philosophy? 
I make sure I draw every day even if I don't have anything to draw. I just make sure I draw something, could be anything at all. 
I've learnt that I'm always critical of the outcome no matter what, but I find that I have usually achieved the outcome I set out to achieve even if the final image doesn't look exactly how I had imagined. The original idea remains the same even if it looks slightly different to what it did in my head, but once it's out there it's up to the audience to interpret it in their own way. There's usually something I think could have been better or didn't quite match up with what I had originally thought up. 
So, my philosophy is to enjoy the process and the physical act of making an image no matter what the outcome. This gives me the freedom to continue being creative and keep improving on every project I do. I also like to leave in any 'mistakes' and make them a part of the process. 
What did you like about working on the Grange Pavilion Story?  
I already have an emotional connection with Grangetown, as it's a place where my brother and sister-in-law lived for many years and brought up my nephew, Archie. I didn't know much about the area before they lived there but it became the backdrop to some beautiful times for me. I also worked in Grangetown which led me to futher understand the area and community. 
From day one of discussing the Grangetown Pavilion project I could feel the passion of the community that had come together to make an amazing thing happen. Often, I've worked on projects where it's hard to connect, but this was not the case for this project. 
It has been a delight exploring the story of the project and the people involved and I have been inspired to be a part of such a beautiful story. I worked on this project during lockdown.. we are in a situation that prevents us from being close to people and the outdoors, so this really offered a window into a world that existed outside of lockdown and I found it has been a great escape to be exploring these events, places and people.