I recently spent five days in Bangkok delivering training on the sustainable development of innovation hubs to 25 participants working in universities across Thailand - the first programme of its kind. This was a really engaging piece of work which also provided the opportunity to find out more about the developing creative hubs scene in Thailand and consider this in relation to our work in Cardiff and the city region.
The growth and development of the creative economy is a current priority for the Thai Government. To support this work they have established the University Creative Counsel Network (UCCN) and alongside it the development of nine creative innovation hubs to act as catalysts for innovation and collaboration at the local level, using expertise and resources from major research universities in Thailand. The programme is a joint initiative by the Office of Higher Education Commission, University Creative Counsel Network, Council of University Presidents of Thailand and British Council Thailand and as such, is well supported.
The 25 participants involved in the training were from a variety of different backgrounds in terms of their career interests and work roles, however, it was clear that there was a genuine interest in the idea of creating engaging innovation spaces and with those working in the creative industries and wider creative economy. The participants were also from diverse geographic locations across the country which offered an interesting insight into the strengths and opportunities presented in the different locations.
The time I spent in Thailand was hugely enriching and after spending a considerable amount of time with the hub managers I am convinced that they will see some significant, tangible outcomes and impacts from this programme. I was really impressed with all of the participants on the training and their approach to a new way of thinking and working with their local communities and colleagues. I look forward to keeping in touch with them to hear how the next stage of their work develops and even perhaps visiting some of the hubs in the future.
Here are some of my key thoughts from this experience:
Bangkok's creative economy is booming
It was evident that the creative industries and wider creative economy is growing rapidly in Bangkok and across Thailand. This is being enabled from both bottom up/grass roots efforts as well as top down interventions and support. While I was there I got the opportunity to explore the midtown district and witness a number of organised cultural initiatives including exhibitions at the Bangkok Art and Culture Centre (BACC), street and graffiti art programmes across the district and the annual 24-hour museum programme. I also heard from H.E. Dr. Suwit Maysinsee, Minister for Science and Technology about his ambition to develop areas of cultural significance across the city including a cultural quarter and aligned strategy.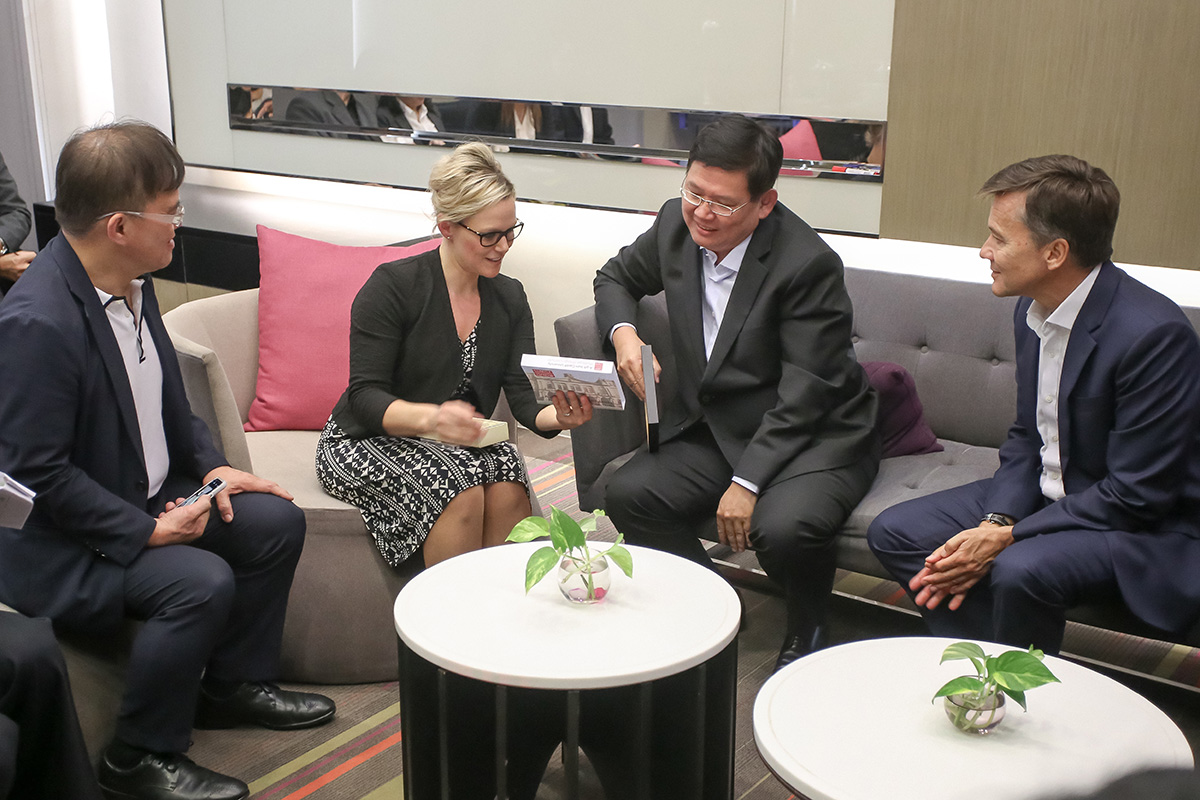 Creative hub developments on the increase in Bangkok
While creative hubs and coworking spaces are quite common in the UK, they are newer to Thailand's creative work ecosystems. However, the number of creative hubs are on the rise and are delivering some interesting results and opportunities; particularly in the capital Bangkok and in the second city of Chang Mai. I visited six hubs which ranged from maker spaces to desk-based workspaces to learning, resource and education spaces. These included: Hubba, Pinn Creative, Yelo House, Jam Factory, Warehouse 30 and Thailand Creative and Design Centre (TCDC). TCDC, is a particularly interesting space. A leader in their field, they have been open for over 10 years and play an important role in championing and supporting the design community across the country. Their ambitious and committed team has developed a brand that has spun out to other locations across Thailand and they now have in excess of 20 partner sites in locations across the country. They support all parts of the creative and design process from idea generation and development to business start-up and transformation as well as providing key resources and spaces in which to do this work.
"Dance with your imaginations and change your life" is the quote writ large on the walls of their creative hub.
The importance of the hub manager
It is a long-held opinion of mine, but still important to reiterate: hub managers are absolutely vital to the success of any hub or innovation space and its community. They play a hugely important role in connecting the resources, knowledge, people and places that they are involved in and as a result they spur innovation, ideas and opportunities and literally keep the spaces open and moving forward. This also means that hub managers are the key to sustaining the impact of the hubs. This is a highly pressured role and for all of these reasons suits some personalities more than others. Some of this you can teach and explain, as I endeavoured to do, but the key is in the thinking of those predisposed to being hub managers in the first place.
Higher education intervention
A key part of what interested me about this programme is the involvement of higher education institutions (HEIs) in developing the nine hub spaces across Thailand. As we are based in a university, I understand the complex nature of developing this kind of activity in a university as well as the opportunities that are therein. The programme will develop the innovation hubs by working with somewhere in the region of 50 to 60 HEI partners along the way – a significant resource in terms of knowledge, skills and resources. It also, however, presents a level of complexity in terms of partnership working and contribution that will need to be carefully managed. Overall, I see this a real opportunity in supporting these spaces and their communities to develop and achieve their potential.
The training
Finally, a few reflections on the training itself. The content, format and approach were developed bespoke specifically for this group. Aside from work we have done over the past four years on hubs, I sourced content from a variety of sources, but must mention specifically useful tools found in the NESTA Creative Enterprise Toolkit which I would highly recommend to anyone planning, developing or building a creative business. Overall the combination of content and format worked well; and in particular the use of exercises to cement learning and give participants takeaways to reflect on e.g. a complete business model canvas. The overall feedback from participants and organisers was very positive. As well as content delivered in the classroom, we undertook a number of visits to hubs in Bangkok. These were key in developing critical thinking around the content delivered in the classroom as participants reflected in the hub spaces they went to see and their various models.
The British Council's role was crucial in enabling all of the above. The British Council has for a number of years been doing research into creative hubs - publishing reports on developments across the world and undertaking a number of enabling projects for hub managers and the wider hub ecosystem. Their involvement in this project really supports the infrastructure that has been developed in Thailand to ensure the best opportunities for success.
The opportunity to train hub managers of the future was one I really relished - to share our knowledge and understanding of creative hubs and coworking spaces, to explore how other countries are approaching this way of working and establishing global relationships was incredibly worthwhile. I look forward to discussing my inspiring trip with the recently established Coworking Collective and to seeing how the nine hubs in Thailand flourish.