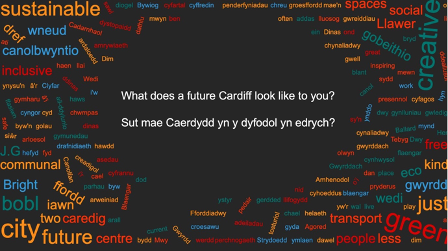 On 16 September 2020, we brought together Professor Aseem Inam, Chair in Urban Design at Cardiff University and Director of TRULAB: Laboratory for Designing Urban Transformation, and other leading creative and critical thinkers from Cardiff for an interactive online workshop to investigate how we might create a post-COVID future for Cardiff.
The idea for this event came about from conversations with the Creative Cardiff Advisory Group which is made up of creative workers representing a range of creative sectors in the city. The conversation was about Cardiff in lockdown and observations about less cars and more wildlife and it led us to ask how Cardiff could/might be different in the future? How might Cardiff rebuild better, and could we bring together a group of creative thinkers from across the city to workshop those ideas?
Our hope was that Professor Aseem's experience in research and engagement on this topic and in evolving these kinds of conversations, would enable us to not only discuss ideas but to develop potential ways to turn those ideas into action.
Creative Cardiff's mission is to connect the creative economy across the Cardiff region, promoting and enabling collaboration for economic, cultural and social benefit and this event brought that mission to life. Even within the limitations of a virtual space, we were able to bring together people from different disciplines to have conversations that might help develop and boost the city's development. We were reminded of the value of creative thinking and the need to seek creativity in action.
Here is an overview of how the event unfolded:
More and more people are realising it's not a question of going back to the normal or even a new normal, because the idea of normal is the problem, not the solution. 
Aseem framed the event's discussions with an opening address which asked us to tell a new story about COVID-19 and the global pandemic and to visualise 'a future through criticality'.
He explained that pandemics have often been seen to play a role in changing cities and often for the better. Aseem said: "It's not cities that change, but those who shape cities and play a vital role in recovery, which is us, all of us" and urged the group to look beyond our shores to the global south where we find social innovations in the face of limited resources and precarity.
Aseem encouraged collaboration and shared with us some examples from a project #Cardiffloveletter.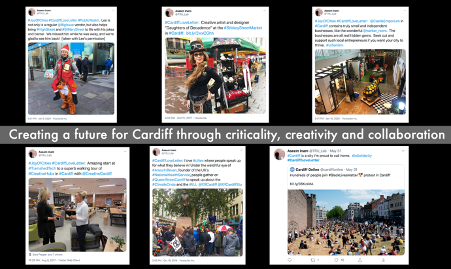 We were then joined by the first of our contributors – Kirsten Stevens-Wood, a senior lecturer at Cardiff Metropolitan University.
The focus of Kirsten's talk was intentional communities – groups of people who come together and create shared ways of living. This might include cooperatives, cooperative housing, sometimes it includes communes where large groups of people live communally in either collection of buildings or in a single building. She asked us to consider, "how we inhabit cities, and included in that our ideas around who has access to what types of spaces, and how we as, as the dwellers of cities, access and use different types of space within urban settings, use of public spaces, and private spaces".
Kirsten explored the effect of lockdown on our relationships with spaces. For example, our notion of the 'car as king' was challenged by social distancing guidelines and the prioritisation of pedestrian and cycle ways. She drew attention to the different ways lockdown affected people from different parts of society differently - some were baking sourdough while others were coping with overcrowding. 
Kirsten introduced us to a Leeds-based project called Lilac garden and the ways in which this community have used space. We were asked to question,
Why can't we have more urban spaces which are collectively owned? Why can't we have collectively owned and accessible resources for us as a community? Is there a way that communities can own and manage more of the space and the land around them?
Our next contributor, urban design practitioner Mark Drane, began his talk with the notion that a 'future Cardiff should be a healthy Cardiff'. Mark grounded us in the data of COVID-19 deaths across our region and the fact that the effects of COVID-19 have not been felt equally by all. Mark led us to think about how we define health and wellness and to reflect upon the inequalities that exist in our city.
"We cannot possibly create a healthy future that talks about healthy streets and healthy neighbourhoods in Cardiff, if we're not also at the same time, deconstructing racism and inequality in all its forms."
He called for us to address these inequalities as well as other areas such as climate change and biodiversity. Mark proposed: "A future code of being one of healthy communities at all stages of life, creating health with communities, not waiting for people to become sick, and treating Cardiff's environment as our shared natural wealth."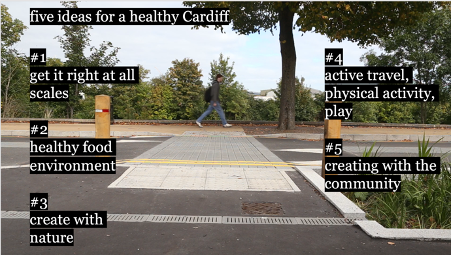 We split off into breakout rooms to discuss the first two talks and we created statements of intent which included valuing the time of community members, consciously using spaces and encouraging confidence to ask questions.
Our breakout rooms were followed by a reading from artist and researcher Adeola Dewis. Here's an extract:
This period has exposed creative capacities to think outside of the box, and beyond what was taken for granted as normal. So, working from home and the blended learning that's happening in schools, for example. When I mentioned to a colleague in Haiti that I was waiting to finish one project to then do this and that, he said that we shouldn't do work to finish it. We should always do work to continue. I hold that closely. I am learning to remember our interconnectedness. And this remembering doesn't come from nothing because something will come from nothing. Something always comes from something. The pandemic forces me to see myself beyond the borders to see how I am experiencing this connectedness to my neighbour, the town, the country, or the countries, the planet, that simple seeing beyond yourself is in itself a decolonial practice. So, holding hands with the future and the past and remembering to walk intently, sincerely, through these days, I have the feeling of blurring the lines between the project vision, imaginings and the ritual of my everyday. So, what are your feelings that may have shifted during this time? In a world where anything is possible, what would you imagine into reality?
And lastly, we heard from our final contributor Rabab Ghazoul - artist, curator and director/founder of Cardiff-based organisation Gentle/Radical. Rabab asked us to consider how COVID-19 invites us to think in radically different ways. To create permanent spaces in which to co-curate and realise a sustainable, inclusive, creative community.
"I'd argue that before planning, before strategizing, before rebuilding or organising, we have to think in terms of nothing less than a shift in consciousness - a belief that we can actually let go of the past.
What if as artists, as practitioners, as community workers, activists, changemakers, we just stay put? What if we train our focus on one place and the people in it permanently?
Creative Cardiff's work has always been rooted in place – a celebration of this place called Cardiff and its creative economy. This event was useful in helping us to consider the creative community's relationship with place and space as we make our way through the COVID-19 pandemic, and a reminder to adopt a critical analysis of that relationship.
We'd like to encourage the individuals and organisations within the Creative Cardiff network to think about their relationship to their place and space. If you would like to have a conversation, please email creativecardiff@cardiff.ac.uk.