"We all understand that without attendees, there is no event and we have found the same is true in the virtual event world"
After working with Creative Cardiff recently on their successful In Conversation with… virtual events series we have found that, in the same way that only the strongest live events succeed, only the virtual events that engage and deliver on their audiences' expectations in the most effective and authentic way, can be claimed to be a success. 
Audiences can always count on the best live event experience possible but how can we do this well online and still maintain professionalism and achieve the same high production values that we all strive for with live events? 
Content, content, content… 
Your content must be good enough to attract an audience. There's absolutely no point in creating, developing, polishing and finishing content that no-one wants to see. So, make sure that you have a product that people want to hear about, take part in, engage with, learn about or simply watch and enjoy. 
Know where you audience are… 
Knowing your audience and their habits is the next step to planning what you do next with your virtual event. Different audiences use different tools to view online content, but one thing is clear: 
Video engages more viewers than simple written content

 
Different platforms can offer products that may be a better fit for your organisation than others. Choose carefully where you broadcast: 

You don't have to follow the crowd, but the key is to engage with your audience in the right place and then you can drive them in a direction that suits your organisation's goals. For example, if your own website is the key communication tool for visitors to your organisation, then host your event in your own space. Or if you have a good consistent group of followers on Facebook, then host your event there. 
Don't feel limited though if you want to go further - it is possible to broadcast to more than one place at a time. It is a little more technical and you may need a specialist to help but 'simulcasting' to a range of social media and web locations is becoming more and more popular and it increases your all- important engagement statistics. You can always give Production 78 a call to find out more about this.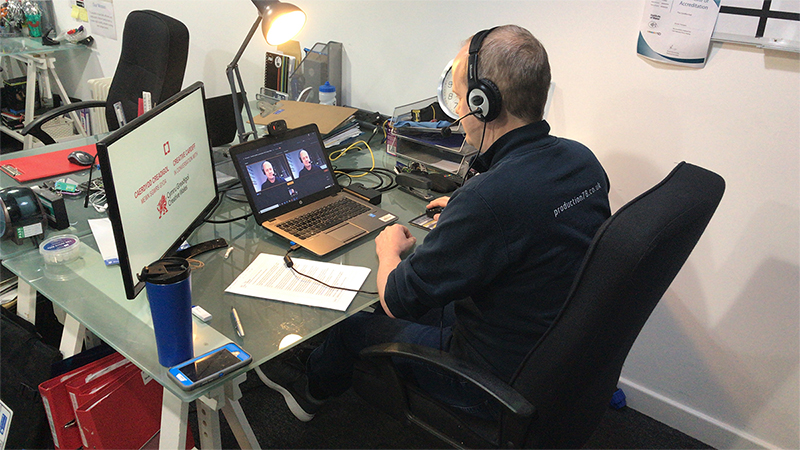 Production values… 
Here comes the difficult bit. The key to making your virtual event better than the rest, centres around production values. There are a few key things you need to make sure you do right, to get the best results: 
Location – choose a location that is right for your broadcast. Consider the following: Does it say the right thing about my broadcast? Is it quiet enough? Does it have natural light? Am I going to be interrupted by the kids? 
Camera – if you can get a high-quality HD camera, use it. The built-in camera on your laptop is designed for day-to-day, simple, easy, low resolution meetings with your colleagues. Better to use a good quality USB camera that can connect straight to your computer. Most other professional level cameras will need encoding into a web format (which may need additional experience, hardware and expense to do well). You can easily hire HD webcams from most good streaming production companies for a small fee. 
Lighting – make the best use of the lighting you have in your location. If you can get light onto your face using natural light or lamps, then this will make your image much clearer. Try and avoid bright lights and windows directly behind you as this can make your camera flare. 
Sound – check that the microphone on your device or camera is good enough for you to be heard. Sometimes, if you use a build in microphone in your device, your voice can sound distant and you can hear the fan on your laptop whirring in the background or even the sound of your own typing or tapping the desk during the event. 
Connection – you will need to make sure that you have a strong enough web connection to hold a consistent and high-quality broadcast. To avoid those irritating frozen screens or problematic audio, try not to rely on WiFi - go old school and connect to your router using a network cable. Check your connection speed, you need to have a good and stable upload speed and bandwidth for streaming video. Limit other users in your household if you can - by reducing any other streaming or gaming on the same connection at the time you are broadcasting you can get the required bandwidth to stream a high-quality broadcast. 
Notifications – avoid distracting your audience, and yourself. Just like in the cinema, make sure your phone doesn't ring, email notifications don't ping, and text notifications won't disturb you. 
Engage - make sure that you present your event brand professionally. Create intro slides, holding slides, graphics and presentations if you can which will look more professional and engaging. 
Rehearse - practice everything in advance. It will help you to keep calm, collected and understandable during the event. 
Be accessible - speak to your audience like they are in room with you and speak their language. 
Timing – choose the correct timing for your event. According to Bizibl marketing your event is most effective in the morning, held once a week (Tuesday, Wednesday or Thursday), for a max of 45 minutes. I am a firm believer that you should choose the time that most suits your audience. Most importantly make it available online afterwards to maximise your engagement with those who couldn't attend live. Be punctual and always start at your advertised time. 
Check your results… 
Set yourself easy targets that you can benchmark and check if you meet them afterwards. A few useful markers are: 
Set up web analytics on your webpage or use built in social media statistics. 
Use online interactions during your broadcast. Chat functions, Q&A and polling are all tools that can be integrated into your broadcast by professional platforms and production companies. 
Gather live viewer statistics. Some platforms and streaming services can provide you with second by second engagement statistics. You can even see the exact moment your viewers switched off! Which you may not always want to know… 
Survey your audience. Ask them what they thought and what you could do differently next time. 
Your turn…  
Take what you want from these notes, take the bit that works for you, but most importantly make sure you do it with your audience in your mind. If you have the right content, delivered with the best production values you can achieve, you will see the results. 
Over to you, show us all what you can do…you can always contact a professional for help and guidance. 
Good luck!