Dr Jenny Kidd of Cardiff School of Journalism, Media and Culture writes:
The Creative Cardiff team has been mapping the growth of creative networks for some years within and beyond the UK, with a view to better understanding those networks' inception - and their potential - within the creative ecosystem. Such networks are worthy of attention given that they present important opportunities for engagement, interaction, capacity building and exchange, as well as (often) playing a crucial lobbying function at all levels.  
At the Joining the Dots event on 30 September, representatives from networks across the UK gathered online to share their experiences of supporting creatives in their localities, as well as some of the challenges. Hosted by Creative Cardiff, the one-day virtual event aimed to take a snapshot of the current state of play for creative city and town networks, to share case studies, and to inspire new ways of engaging with communities and stakeholders.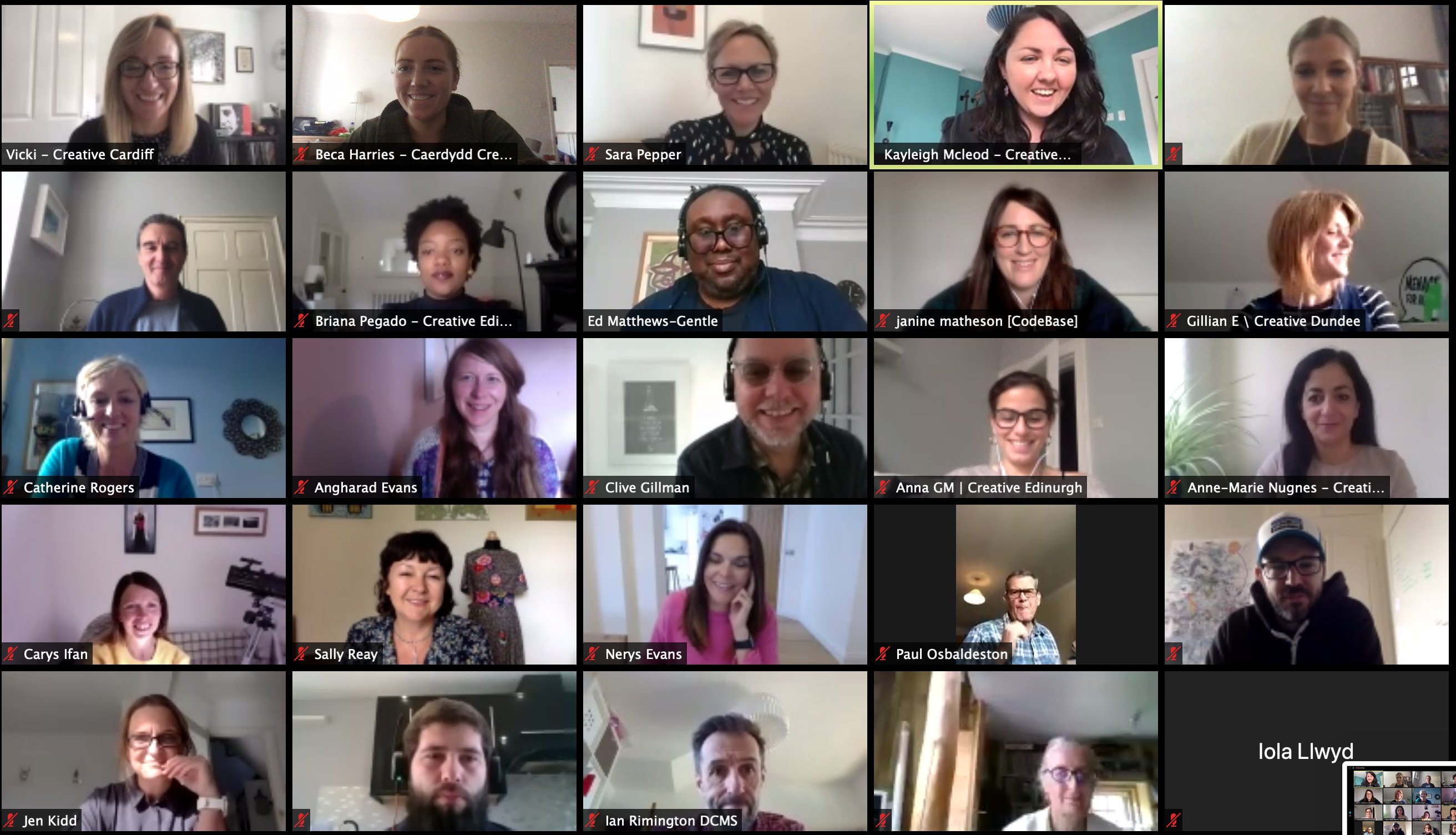 Central to the event was the sharing of findings from a recent research project exploring the functions and sustainability of creative networks which has been carried out by Marlen Komorowski and Sara Pepper. This research will be published in the coming months so I won't trail it here but instead I can share some brief takeaways from the other presentations and discussion. 
Clive Gillman, Director of Creative Industries at Creative Scotland, spoke about how they engage with networks and the high-level principles which underpin the way they work. This includes their bold triple bottom line approach to value, such that value is understood in cultural, social and economic terms. All network representatives offered an overview of their endeavors and initiatives; from mentoring programmes to the provision of workspaces, from providing small grants to facilitating collaborations.    
It emerged overwhelmingly that the networks – despite their differences in structure, location and resources - shared great commonalities. Chief amongst these at the present time was the challenge of Covid-19 and its associated precarities. But there was a real sense too that the pandemic had necessarily sharpened what were referred to as the 'superpowers' of these networks; their capacity for adaptation, their sensitivity to the needs of network members, and the strength of will to advocate on their behalf. There was a sense to which the pandemic had heightened the very case for these networks. As Huw Thomas (leader of Cardiff City Council) noted at the start of the day, 'in recent months we have all learnt only too well the immeasurable human need for the arts'. 
In the midst of these discussions though there was light, creativity and intimacy. Beautiful singing, thoughtful reflection and camaraderie. As Director of Creative Cardiff Sara Pepper noted toward the end of the day, we could hardly have experienced a warmer or more open dialogue if we had been physically present in a room together. 
Excited to be representing @Creative_Kernow at #joiningthedots20 a great opportunity to connect with creative networks across the UK #creativenetworks #creativecommunities Meur ras @CreativeCardiff 🙏

— Fiona Wotton (@fionawotton) September 24, 2020
Very excited to be part of the Joining the Dots: Power of Creative Networks event today.

Looking forward to the conversations to come and new connections with other #creativecommunities! #joiningthedots20@CreativeCardiff

— Creative Manchester (@UoMCreativeMCR) September 24, 2020
Present at the virtual event were creative networks - Bristol Creatives, Bristol Creative Industries, Creative Carmarthenshire, Creative Pontypridd, Creative Dundee, Creative Edinburgh, Creative Kernow, Creative Lancashire, Creative Leicestershire, Creative Manchester, Culture Central Birmingham, Creative Quarter Nottingham.
Plus, representatives from; Cardiff Council, Creative England, Department for Culture Media and Sport, Creative Scotland, Creative Wales, Innovate UK, NESTA, Creative Industries Policy and Evidence Centre, and Creative Industries Clusters Programme.