Creative Cardiff's 'Show & Tell' is a quarterly event that gives a platform to the exciting range of creative people and projects in the city. It brings together Cardiff's creative community, from emerging talent to old hands, to hear about their current projects and ambitions.
Each of the speakers will give a 10-minute lightning talk. And they'll bring an object. The object might be the source of their inspiration, a tool of their trade or a comfort blanket. The speakers will share their work and explain the importance of the object they've brought along.
Speakers...
Bizzy Day is the Executive Director of The Other Room, Cardiff's Pub Theatre. Prior to co-founding the theatre with Artistic Director Kate Wasserberg, Bizzy worked as a freelance fundraiser and business planning adviser in the arts. An actor in a previous life, Bizzy established her current career in 2014 while training as an arts fundraiser on the Arts & Business Cymru Creative Internships scheme.
Bizzy is responsible for the executive, strategic and financial side of The Other Room, leading on sustainability and entrepreneurial leadership and producing the theatre's plays. Ever the strategist, Bizzy thrives in the high pressure environment and enjoys the creative challenge of keeping the theatre going.
Allie John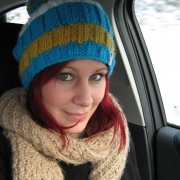 ​
Alison John is producer at yello brick - a creative agency that creates immersive experiences through digital platforms and live events. In the past yello brick has made an epic urban adventure game in the streets of Cardiff, a site specific storytelling app for cycle routes in Wales and an online interactive event for new opera audiences. The company has worked with such clients as Welsh National Opera, National Museum of Wales, National Library of Wales, Design Commission for Wales, Sustrans. Cardiff University, Welsh Language Commission and Taikabox.
Most recently she has been responsible for producing BORDERGAME for National Theatre Wales. Over the last few years other highlights have included producing our BAFTA Games Commended multiplatform game REVERIE.
Alison is also co-producer of playARK Festival, an annual event in Cardiff that explores story, games and playful experiences in theory and practice and is Director of ARK LAB, a company that creates projects for social good. She is recognised as one of a cohort of digital producers practicing in Wales by Watershed, National Theatre Wales and Arts Council of Wales.
Glyn Mottershead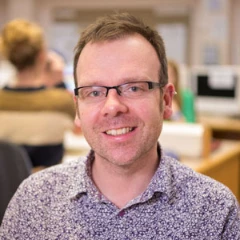 A former newspaper reporter, feature writer, subeditor and production journalist, Glyn has worked across a range of news beats including crime, health and local government.
Glyn is a co-author of The 21st Century Journalism Handbook and specialises in Digital Journalism and Data Journalism at Cardiff School of Journalism, Media and Cultural Studies.
He is a member of Investigative Reporters and Editors, and the Online News Association. Glyn is the co-founder of @HacksHackers chapter for South Wales and South West England.
If you have any accessibility requirements for this event please email creativecardiff@cardiff.ac.uk.